Carabine de grande chasse Fair à canon fileté
Carabine de grande chasse Fair à canon fileté
SKU
Item designation
RGA
French Law
Caliber
Shots
Barrel (cm)
Weight (g)
MSRP

SKU

CF1074

Item designation

Fair Cal. 7x64

AF128

French Law

C

Caliber

7 x 64

Shots

4

Barrel (cm)

56

Weight (g)

3 400

MSRP

1130

€ incl. tax

SKU

CF1036

Item designation

Fair Cal. 7x64

AF125

French Law

C

Caliber

.30-06 Spr.

Shots

4

Barrel (cm)

56

Weight (g)

3 400

MSRP

1130

€ incl. tax

SKU

CF1038

Item designation

Fair Cal. 7x64

AF126

French Law

C

Caliber

-

Shots

4

Barrel (cm)

56

Weight (g)

3 400

MSRP

1130

€ incl. tax
Carabine à verrou Fair avec un canon fileté permettant le montage d'un modérateur de son.
Carabine à répétition, à verrou.
Canon fileté avec organes de visée.
Guidon fibre optique rouge.
Chargeur amovible.
Levier d'armement à boule.
Crosse en bois poncé huilé avec plaque de couche caoutchouc.
2 grenadières pré-montées.
Pictograms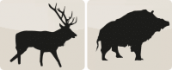 Suitable for big game
Armes adaptées au gros gibier (sangliers, chevreuil & cerf)

Best Rifle 2016 award
Best UK Gun Shop 2016 in the competition shootinguk (UK)
---
In France products of categories A, B, C or D are subject to rules of purchase, port, transport and detention. For more details please consult the link below.
Classification of weapons according to the French Internal Security Code
The recommended retail prices are listed as a guide..
Pictures are not contractual. Photos of product may be different with the final products.