Carabine à verrou BCM - RUBIS bois à canon fileté
Carabine à verrou BCM - RUBIS bois à canon fileté
SKU
Item designation
RGA
French Law
Caliber
Shots
Barrel (cm)
Length (cm)
Weight (g)
MSRP

SKU

BCR1023

Item designation

BCM - RUBIS bois cal. 243 Win. canon 56cm fileté

AB035

French Law

C

Caliber

.243 Win

Shots

4

Barrel (cm)

56

Length (cm)

108.5

Weight (g)

3315

MSRP

1390

€ incl. tax

SKU

BCR1020

Item designation

AB036

French Law

C

Caliber

.270 Win

Shots

4

Barrel (cm)

56

Length (cm)

108.5

Weight (g)

3315

MSRP

1390

€ incl. tax

SKU

BCR1030

Item designation

BCM - RUBIS bois cal. 300 Win. Mag. canon 61cm fileté

AB037

French Law

C

Caliber

.300 Win Mag

Shots

4

Barrel (cm)

61

Length (cm)

113.5

Weight (g)

3365

MSRP

1470

€ incl. tax

SKU

BCR1036

Item designation

BCM - RUBIS bois cal. 30-06 Spr. canon 56cm fileté

AB038

French Law

C

Caliber

.30-06 Spr.

Shots

4

Barrel (cm)

56

Length (cm)

108.5

Weight (g)

3315

MSRP

1390

€ incl. tax

SKU

BCR1070

Item designation

BCM - RUBIS bois cal. 7 Rem. Mag. canon 61cm fileté

AB039

French Law

C

Caliber

7 mm Rem

Shots

4

Barrel (cm)

61

Length (cm)

113.5

Weight (g)

3365

MSRP

1470

€ incl. tax

SKU

BCR1074

Item designation

BCM - RUBIS bois cal. 7x64 canon 56cm fileté

AB040

French Law

C

Caliber

7 x 64

Shots

4

Barrel (cm)

56

Length (cm)

108.5

Weight (g)

3315

MSRP

1390

€ incl. tax
La carabine à verrou BCM, issue de la tradition armurière italienne, propose aux chasseurs de grand gibier une arme fiable et particulièrement précise. Cette carabine résolument moderne offre en standard un canon fileté pour le montage d'un modérateur de son et un boitier pré-percé pour le montage d'une optique.
Carabine de chasse BCM à verrou de fabrication italienne.
Culasse chromée 3 tenons.
Canon fileté avec organes de visée.
Guidon fibre optique rouge réglable en dérive.
Chargeur amovible.
Levier d'armement largement dimensionné.
Crosse en bois poncé huilé.
Plaque de couche caoutchouc.
2 grenadières pré-montées
Le verrouillage à 3 tenons possède deux avantages :  
Une répartition plus homogène de la pression pour plus de sécurité.
Une réduction de l'angle de verrouillage, ce qui permet un réarmement plus rapide grâce une amplitude réduite du mouvement.  
Contexte : chasse au sanglier, carabine d'affût, carabine de battue, carabine à silencieux, carabine avec modérateur de son, carabine à verrou, carabine a verrou, FAIR since 1971, carabine gros gibier, carabine grand gibier, carabine de chasse FAIR, carabine FAIR...
Pictograms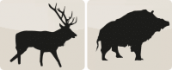 Suitable for big game
Armes adaptées au gros gibier (sangliers, chevreuil & cerf)

Best Rifle 2016 award
Best UK Gun Shop 2016 in the competition shootinguk (UK)
---
In France products of categories A, B, C or D are subject to rules of purchase, port, transport and detention. For more details please consult the link below.
Classification of weapons according to the French Internal Security Code
The recommended retail prices are listed as a guide..
Pictures are not contractual. Photos of product may be different with the final products.