Fair superposé Express Classic Acier - Canon 55 cm
Fair superposé Express Classic Acier - Canon 55 cm
Item number
Designation
Category
Caliber
Trigger
Ejection
Barrel (cm)
Weight (g)
MSRP

Item number

DC328

Designation

Category

C

Caliber

8 x 57 JRS

Trigger

ST

Ejection

Ext.

Barrel (cm)

55

Weight (g)

3000

MSRP

2445

€ incl. tax

Item number

DC329

Designation

Category

C

Caliber

9.3 x 74 R

Trigger

ST

Ejection

Ext.

Barrel (cm)

55

Weight (g)

3000

MSRP

2445

€ incl. tax
Cette ligne innove avec des express qui répondent aux nouvelles attentes des chasseurs de gros gibiers et des traqueurs : Nouvelle présentation, nouveau calibre en conservant savoir-faire, fiabilit
Bascule Acier avec 3 gravures dorées 
Bascule acier monobloc haute résistance
Double verrouillage à plat
Tourillons acier interchangeables
Frette acier à résistance élevée (39NCD4Ph)
Bande de battue pré-équipée pour montage d'optique
Guidon réglable en hauteur
A SAVOIR :
Depuis 15 ans, Fair produit plus de 1000 Express par an...
Un savoir faire indispensable et une expertise indiscutable pour ces armes difficiles à exécuter.
Pictograms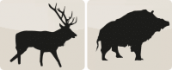 Adapté aux gros gibiers
Armes adaptées au gros gibier (sangliers, chevreuil & cerf)

Garantie Simac 5 ans
Garantie 5 ans
Made in Italy - Fair
Made in Italy
Made in Italy - Flag
Made in Italy
---
In France products of categories A, B, C or D are subject to rules of purchase, port, transport and detention. For more details please consult the link below.
Classification of weapons according to the French Internal Security Code
The recommended retail prices are listed as a guide..
Pictures are not contractual. Photos of product may be different with the final products.