Fair superposé Express Classic Acier - Canon 55 cm
FAIR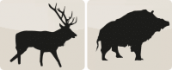 Fair superposé Express Classic Acier - Canon 55 cm
Item number
Designation
Category
Caliber
Trigger
Ejection
Barrel (cm)
Weight (g)
MSRP

Item number

DC328

Designation

Category

C

Caliber

8 x 57 JRS

Trigger

ST

Ejection

Ext.

Barrel (cm)

55

Weight (g)

3000

MSRP

2445

€ incl. tax

Item number

DC329

Designation

Category

C

Caliber

9.3 x 74 R

Trigger

ST

Ejection

Ext.

Barrel (cm)

55

Weight (g)

3000

MSRP

2445

€ incl. tax
Cette ligne innove avec des express qui répondent aux nouvelles attentes des chasseurs de gros gibiers et des traqueurs : Nouvelle présentation, nouveau calibre en conservant savoir-faire, fiabilit
Bascule Acier avec 3 gravures dorées 
Bascule acier monobloc haute résistance
Double verrouillage à plat
Tourillons acier interchangeables
Frette acier à résistance élevée (39NCD4Ph)
Bande de battue pré-équipée pour montage d'optique
Guidon réglable en hauteur
A SAVOIR :
Depuis 15 ans, Fair produit plus de 1000 Express par an...
Un savoir faire indispensable et une expertise indiscutable pour ces armes difficiles à exécuter.
In France products of categories A, B, C or D are subject to rules of purchase, port, transport and detention. For more details please consult the link below.
Classification of weapons according to the French Internal Security Code
Associated products
---
The recommended retail prices are listed as a guide..
Pictures are not contractual. Photos of product may be different with the final products.