Caesar Guerini Express Réflexo Acier - Éject. - 55cm
Caesar Guerini Express Réflexo Acier - Éject. - 55cm
SKU
Item designation
RGA
French Law
Caliber
Trigger
Ejection
Barrel (cm)
Weight (g)
MSRP

SKU

CG708

Item designation

AD616

French Law

C

Caliber

8 x 57 JRS

Trigger

ST

Ejection

Eject.

Barrel (cm)

55

Weight (g)

3150

MSRP

3705

€ incl. tax

SKU

CG709

Item designation

AD617

French Law

C

Caliber

9.3 x 74 R

Trigger

ST

Ejection

Eject.

Barrel (cm)

55

Weight (g)

3150

MSRP

3705

€ incl. tax

SKU

CG730

Item designation

AD615

French Law

C

Caliber

.30 R Blaser

Trigger

ST

Ejection

Eject.

Barrel (cm)

55

Weight (g)

3150

MSRP

3705

€ incl. tax
Une garantie de longévité avec la bascule à joues de renfort.
Une garantie de longévité avec la bascule à joues de renfort.
Bande supérieure de 10 mm : pour une visée ouverte plus efficace !
Bande pré-entaillée pour montage optique pivotant.
Double crochet de verrouillage.
Crosse « Dos de cochon » à joue bavaroise « Double filet »
Plaque de couche Bois.
Point de mire réglable en fibre optique fluo.
Réglage convergence : Simple et très rapide par un armurier professionnel
Convergence de 3cm maximum à 50 mètres ! Garantie fabriquant (balles recommandées indiquées sur le ciblage Guérini).
Livré en mallette luxe
Pictograms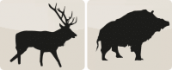 Suitable for big game
Armes adaptées au gros gibier (sangliers, chevreuil & cerf)
PSF
Armes éprouvées à l'épreuve supérieure (1370 bars)
Oiled wood
Crosse et devant poncée huilée
Hand engraving finish
Finition gravure main

15 year Simac warranty
Garantie 15 ans
---
In France products of categories A, B, C or D are subject to rules of purchase, port, transport and detention. For more details please consult the link below.
Classification of weapons according to the French Internal Security Code
The recommended retail prices are listed as a guide..
Pictures are not contractual. Photos of product may be different with the final products.