Express overlay Guérini Néréo with ejectors
Express overlay Guérini Néréo with ejectors
SKU
Item designation
RGA
French Law
Caliber
Shots
Trigger
Ejection
Barrel (cm)
Length (cm)
Weight (g)
Weapon Type
MSRP

SKU

CG853

Item designation

Néréo .30 R Blaser

AD609

French Law

C

Caliber

.30 R Blaser

Shots

2

Trigger

ST

Ejection

Eject.

Barrel (cm)

55

Length (cm)

98

Weight (g)

3150

Weapon Type

Express Superposed

MSRP

2725

€ incl. tax

SKU

CG856

Item designation

Néréo .30-06 Spr

BJ935

French Law

C

Caliber

.30-06 Spr.

Shots

2

Trigger

ST

Ejection

Eject.

Barrel (cm)

55

Length (cm)

98

Weight (g)

3150

Weapon Type

Express Superposed

MSRP

2725

€ incl. tax

SKU

CG858

Item designation

Néréo 8x57 JRS

AD610

French Law

C

Caliber

8 x 57 JRS

Shots

2

Trigger

ST

Ejection

Eject.

Barrel (cm)

55

Length (cm)

98

Weight (g)

3150

Weapon Type

Express Superposed

MSRP

2725

€ incl. tax

SKU

CG859

Item designation

Néréo 9.3x74 R

AD611

French Law

C

Caliber

9.3 x 74 R

Shots

2

Trigger

ST

Ejection

Eject.

Barrel (cm)

55

Length (cm)

98

Weight (g)

3150

Weapon Type

Express Superposed

MSRP

2725

€ incl. tax
All Guérini know-how at the service of big game hunters.
Express superimposed with adjustment of the convergence of the barrels. Convergence of 3cm maximum at 50 meters!
Pistol grip stock in walnut.
Black steel rocker with reinforced cheek for longer life.
Engraving deer, wild boar and oak leaves.
Fiber optic open sight
Pre-drilled strip for mounting a telescope or a red dot.
Delivered in a luxury PVC case.
Convergence of 3cm maximum at 50 meters! Manufacturer's warranty (recommended bullets indicated on Guérini targeting).
Delivered in a luxury case
Pre-notched strip for swiveling optical mounting.
Double locking hook.
Pictograms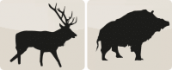 Suitable for big game
Armes adaptées au gros gibier (sangliers, chevreuil & cerf)
PSF
Armes éprouvées à l'épreuve supérieure (1370 bars)
Oiled wood
Crosse et devant poncée huilée
Hand engraving finish
Finition gravure main

15 year Simac warranty
Garantie 15 ans
---
In France products of categories A, B, C or D are subject to rules of purchase, port, transport and detention. For more details please consult the link below.
Classification of weapons according to the French Internal Security Code
The recommended retail prices are listed as a guide..
Pictures are not contractual. Photos of product may be different with the final products.