Steyr Monobloc cal.30-06 Spr. crosse vert
Steyr Monobloc cal.30-06 Spr. crosse vert
Ref.
Item designation
RGA
Category
Caliber
Shots
Barrel (cm)
Length (cm)
Weight (g)

Ref.

SMB00036V

Item designation

Steyr Monobloc cal.30-06 Spr. crosse vert

BN062

Category

C

Caliber

.30-06 Spr.

Shots

5

Barrel (cm)

55.8

Length (cm)

107.5

Weight (g)

3700

6890

€ incl. tax
A revolutionary rifle with a breech housing and monoblock gun!
Reliability: Made to military standards.
Accuracy: Case and barrel are one, ensuring optimal accuracy.
Ergonomics: Many options of configurations possible.
Security: Separate armament, blocking of the bolt lever, removable detent block for greater security.
Detachable charger 4 shots, plus 1 shots in the room.
Entirely detachable case: to secure the weapon instantly.
Separate armament: safety by manual arming of the firing pin.
Stock, pistol grip and front with removable and interchangeable leather inserts.
Pictograms

Striped ammunition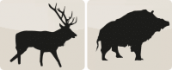 Suitable for big game
Armes adaptées au gros gibier (sangliers, chevreuil & cerf)
Category C
---
In France products of categories A, B, C or D are subject to rules of purchase, port, transport and detention. For more details please consult the link below.
Classification of weapons according to the French Internal Security Code
The recommended retail prices are listed as a guide..
Pictures are not contractual. Photos of product may be different with the final products.