STEYR MANNLICHER carabine SSG08 - Synt
STEYR MANNLICHER carabine SSG08 - Synt
SKU
Item designation
RGA
French Law
Caliber
Shots
Barrel (cm)
Length (cm)
Weight (g)
Weapon Type
MSRP

SKU

SM813438

Item designation

STEYR SSG08 Synt 300 W can 600 mm

AP178

French Law

C

Caliber

.308 Win

Shots

10

Barrel (cm)

60

Length (cm)

120

Weight (g)

5700

Weapon Type

Locked carbine

MSRP

6990

€ incl. tax

SKU

SM813430

Item designation

STEYR SSG08 Synt - Caliber 300 W - can 600 mm

AP177

French Law

C

Caliber

.300 Win

Shots

8

Barrel (cm)

60

Length (cm)

120

Weight (g)

5680

Weapon Type

Locked carbine

MSRP

7390

€ incl. tax

SKU

SM813438L

Item designation

STEYR SSG08 Synt - Calibre 338 Lap - can 600 mm

BN061

French Law

C

Caliber

.338 Lapua

Shots

8

Barrel (cm)

69

Length (cm)

128

Weight (g)

6120

Weapon Type

Locked carbine

MSRP

8200

€ incl. tax
Gunsmith tradition since 1864 ...
Steyr Mannlicher is one of the oldest Austrian industrial companies.
She sees herself both as the guardian of craft traditions and as one of the leaders in the research and use of modern technologies.
Heavy hammering barrel of very high quality
Barrel outer spiral appearance
Horizontal dispersion Steyr mouth brake
Manual safety
Floating gun 
Case with SBS system preventing backflow
Bolt lock at 70 ° by 4 pins in 2 rows
Ball cocking lever
Direct relaxation very fluid
Compact precision carbine.
Precision weapon used by professional shooters demanding results. The many useful features such as the adjustable heel, the Picatinny side rails for mounting tactical instruments and the possibility of attaching a Versa Pod bipod are just some of the valuable aids for perfect precision shooting.
The hammering of the barrel gives the outer spiral appearance of the barrel
Steyr's specific mouth brake does not lift a cloud of dust
Picatinny rail inclined at 20 MOA, special long distance.
Delivered with :
Adjustable and folding stock
Busc and adjustable bed plate
Adjustable butt foot
Ergonomic pistol grip
Brake of mouth
8 shots charger
Standard folding bipod (338 caliber delivered with SSG carbon heavy bipod)
Pictograms

Striped ammunition
Category C
---
In France products of categories A, B, C or D are subject to rules of purchase, port, transport and detention. For more details please consult the link below.
Classification of weapons according to the French Internal Security Code
---
Associated products
Bande anti-mirage pour canon
STEYR MANNLICHER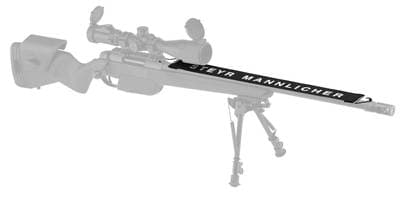 SKU PS2613090510 / PS2613090511 / PS2613090512
The recommended retail prices are listed as a guide..
Pictures are not contractual. Photos of product may be different with the final products.