Fair Express Premier Traqueur
Fair Express Premier Traqueur
SKU
Item designation
RGA
French Law
Caliber
Shots
Trigger
Ejection
Barrel (cm)
Weight (g)
MSRP

SKU

DC333

Item designation

Great. Express Wood Tracker MD Cal.30R Can.55

BM877

French Law

C

Caliber

.30 R Blaser

Shots

2

Trigger

ST

Ejection

Ext.

Barrel (cm)

55

Weight (g)

3000

MSRP

2075

€ incl. tax

SKU

DC336

Item designation

Great. Express Wood TRACKER MD Cal. 30-06 Can. 55

AF130

French Law

C

Caliber

.30-06 Spr.

Shots

2

Trigger

ST

Ejection

Ext.

Barrel (cm)

55

Weight (g)

3000

MSRP

2145

€ incl. tax

SKU

DC338

Item designation

Great. Express Wood TRACKER MD Cal.8X57JRS Can.55

AF166

French Law

C

Caliber

8 x 57 JRS

Shots

2

Trigger

ST

Ejection

Ext.

Barrel (cm)

55

Weight (g)

3000

MSRP

2075

€ incl. tax

SKU

DC339

Item designation

Great. Express Wood Tracker MD Cal.9.3X74R Can.55

AF132

French Law

C

Caliber

9.3 x 74 R

Shots

2

Trigger

ST

Ejection

Ext.

Barrel (cm)

55

Weight (g)

3000

MSRP

2075

€ incl. tax
This line innovates with express answering new expectations
Big game hunters:
New presentation, new caliber while retaining know-how, reliability and efficiency.
High strength one-piece steel scale
Double flat lock
Interchangeable steel pins
High resistance steel hoop (39NCD4Ph)
Battue strip pre-equipped for optical mounting
Height-adjustable handlebars
Cette ligne innove avec des express répondant aux nouvelles attentes des chasseurs de gros gibiers et des traqueurs : Nouvelle présentation en conservant savoir-faire, fiabilité et efficacité.
Bascule acier monobloc haute résistance
Double verrouillage à plat
Tourillons acier interchangeables
Frette acier à résistance élevée (39NCD4Ph)
Bande de battue pré-équipée pour montage d'optique
Guidon réglable en hauteur
Black flip-flop 2 Golden Subjects
Pictograms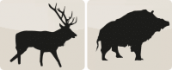 Suitable for big game
Armes adaptées au gros gibier (sangliers, chevreuil & cerf)

5 year Simac warranty
Garantie 5 ans
Made in Italy - Fair
Made in Italy
Made in Italy - Flag
Made in Italy
---
In France products of categories A, B, C or D are subject to rules of purchase, port, transport and detention. For more details please consult the link below.
Classification of weapons according to the French Internal Security Code
The recommended retail prices are listed as a guide..
Pictures are not contractual. Photos of product may be different with the final products.