Fair Juxtaposés Express Rayés - Eject. - Acier
Fair Juxtaposés Express Rayés - Eject. - Acier
Ref.
Item designation
RGA
Category
Caliber
Shots
Trigger
Ejection
Barrel (cm)
Weight (g)
Weapon Type

Ref.

DC9313

Item designation

AF170

Category

C

Caliber

.30 R Blaser

Shots

2

Trigger

ST

Ejection

Eject.

Barrel (cm)

55

Weight (g)

3000

Weapon Type

Express Juxtaposed

3445

€ incl. tax

Ref.

DC93136

Item designation

Juxtapose Express Eject.MD Cal 30.06 Can 55

AF171

Category

C

Caliber

.30-06 Spr.

Shots

2

Trigger

ST

Ejection

Eject.

Barrel (cm)

55

Weight (g)

3000

Weapon Type

Express Juxtaposed

3545

€ incl. tax

Ref.

DC9318

Item designation

AF172

Category

C

Caliber

8 x 57 JRS

Shots

2

Trigger

ST

Ejection

Eject.

Barrel (cm)

55

Weight (g)

3000

Weapon Type

Express Juxtaposed

3445

€ incl. tax

Ref.

DC9319

Item designation

AF173

Category

C

Caliber

9.3 x 74 R

Shots

2

Trigger

ST

Ejection

Eject.

Barrel (cm)

55

Weight (g)

3000

Weapon Type

Express Juxtaposed

3445

€ incl. tax
• 
Symbole fort de la chasse traditionnelle, le fusil juxtaposé reste l'arme favorite de nombreux chasseurs. Nous vous proposons une gamme de carabines Express à canons rayés mariant savoir faire et t
Very high resistance Monobloc rocker
High strength steel ring (39NCD4Ph)
Height adjustable handlebar
Pre-fitted band for assembly
Old silver or jasped finish
Wood slab
Open key Pre-fitted strip for assembly
Barrel mouth with adjustable barrel
Yellow rise
Double relaxation on request.
Pictograms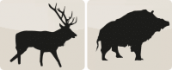 Suitable for big game
Armes adaptées au gros gibier (sangliers, chevreuil & cerf)

5 year Simac warranty
Garantie 5 ans
Made in Italy - Flag
Made in Italy
---
In France products of categories A, B, C or D are subject to rules of purchase, port, transport and detention. For more details please consult the link below.
Classification of weapons according to the French Internal Security Code
---
Associated products
The recommended retail prices are listed as a guide..
Pictures are not contractual. Photos of product may be different with the final products.