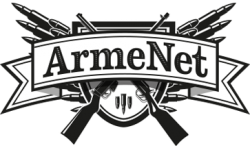 ARMENET est une gamme de produits destinés à l'entretien et la rénovation des armes et autres équipements... Les produits Armenet sont fabriqués en France et regroupe un ensemble de solution pour les tireurs, les chasseurs et les armuriers : produits de bronzage de canons, déplombants, désoxydants, lubrifiants, huiles...
LGREASE 36 Lingettes
ARMENET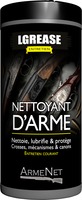 SKU AN5460 / AN5465
| SKU | Item designation | French Law | MSRP |
| --- | --- | --- | --- |
| AN5460 | LGREASE BOITE DE 36 LINGETTES | Vente libre | |
| AN5465 | LGREASE BOITE DE 36 LINGETTES + MICROFIBRE | Vente libre | |
In France products of categories A, B, C or D are subject to rules of purchase, port, transport and detention. For more details please consult the link below.
Classification of weapons according to the French Internal Security Code
The recommended retail prices are listed as a guide..
Within the limit of stocks
Pictures are not contractual. Photos of product may be different with the final products.
Texts, brands and characteristics are not contractual as they are liable to change depending on arrivals.